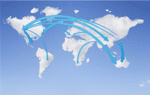 Pitney Bowes Software has been delivering and managing data via the cloud through their Geosk product for some time, with direct connections to their own GIS software, MapInfo Professional. This data offering allows users to take targeted cuts of map data to integrate within their projects. For instance, they can purchase Pitney Bowes own StreetPro data for a county instead of an entire state, and download that directly as opposed to the delivery of CDs or DVDs in the past.
This access to data deployed in the cloud, or as an appliance on premise, solves a major pain point of creating realistic 3D city models within the Infrastructure Modeler 3D city modeling tool, where quality and authority of data is critical to accurately represent the project space. The technical challenges of integrating this cloud-based capability within pull-down menus in Autodesk products isn't much of a technical challenge, so you can expect to see this data connectivity feature added quickly.
Enhanced Analytics
There are definite gaps that are filled through the infrastructure lifecycle – plan, design, build, and manage – with this alignment. Pitney Bowes has analytical tools for master planning and for policy and strategy decisions that don't overlap with the design and modeling focus of Autodesk. Autodesk aggregates information into BIM or CAD engineering environment, but has been a bit weak in terms of GIS analytics and business analytics to make better decisions on that information.
Pitney Bowes Encom Engage 3D combines 3D spatial technology with conventional GIS analysis to provide new solutions to infrastructure asset problems. The product has been successful in the mining and oil and gas, as well as environmental monitoring arena. Both companies see a strong benefit to combine this capability with Autodesk's planning and design tools for infrastructure, where the combination provides a compelling data flow.
Simulation Synergies
Another area that stands to benefit is the integration of transportation planning and simulation within the early phases of design. The Pitney Bowes product Quadstone Paramics simulates transportation and crowd movement to take into account the best traffic engineering of intersections, the mix of public transport and routing, pedestrian modeling, environmental impacts and emissions, and the modeling of people within infrastructure.
As the Building Information Modeling advances to the broader infrastructure space, this ability to automate the performance of infrastructure design with traffic simulation becomes really compelling. Paramics provides the ability to test out different scenarios regarding traffic patterns to optimize design in real time. This adds to the intelligent modeling capabilities of Autodesk by taking the design, combining it with traffic data, and visualizing it within a real-world context.
Managing Assets
Autodesk's Map 3D and Topobase products have a records management and industry data models for utilities, but what isn't there is the delivery of strategic asset management solutions. Pitney Bowes Confirm product is a solution for the maintenance and management of public infrastructure assets such as roads and highways, lights, structures, grounds, trees and waste systems that delivers reporting and optimization tools as well as contract management. The tool essentially performs a geo-accounting function to assign values and costs, assess risks, and perform valuation across the full infrastructure lifecycle.
The Confirm strategic asset management system is a market leader in the UK, Australia and New Zealand, and through the Autodesk relationship it will be pushed across the globe. The tool has a full set of maintenance management, budget planning, and contracting tools that provides detailed condition data that ties back to each asset as well as built-in GIS capabilities based on MapXtreme. There are real opportunities within the transportation market, where public private partnership and multi-agency initiatives, are creating larger scale and longer term projects with a need for more detailed cost accounting. These tools give those organizations the ability to better manage those long-term projects well.
Sales Execution

This announcement coincided with a Pitney Bowes global sales meeting in Florida this week, where representatives from their offices across the globe meet yearly to discuss offerings and targets. Pitney Bowes has a strong direct channel sales and services presence in countries across the globe. Autodesk's VARs are well positioned to take this on too, and the two companies are busy making decisions on which channels will work best to ensure that those best positioned to drive value are included.
Talks about aligning operations have been ongoing for the past four months. The announcement has received universal excitement from the sales force where there is strong enthusiasm that many companies will make buying decisions based on this alignment. Where there is increasing call for close alignment of design tools, analysis and data management for large infrastructure-related tenders, this alignment will prove fruitful.