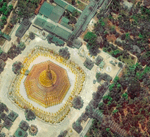 DES is driven to simplify the acquisition of knowledge about the earth, as well as the ability to manage, analyze, and share this spatial data. The intent is to improve return on investment to make the data more useful and usable. DES lists many data partners in this mission, including DigitalGlobe, Intermap, the Worldview Global Alliance, GRIDA, Autodesk, and others.
If a company or government were to purchase all of the data contained in the data appliance, it would cost millions. Additionally, the need to normalize the data to work well with existing software would require hours and hours of work. With the packaged data service, DES promises a cost and time savings, with links back to data suppliers that ensures the data will be up-to-date.
In addition to the data appliance, DES works on a wide range of problems, and is dedicated to research and development for new methods of appling remote sensing, GIS and Building Information Modeling (BIM). The company has teamed with leading universities in the Asia Pacific region on initiatives related to global change, including:
analysis of urban heat island effects
the integration of multiple systems to support 3D urban planning and analysis
the use of satellite imagery for forest management, biomass calculations, and carbon sequestration
the mapping and modeling of ocean floor
This new data packaging plan has wide appeal, particularly in the developing world where non-commercial sources of imagery and base data is hard to come by. The packaged approach ensures reliability that allows the user to focus on problem solving and solutions rather than data management and handling.
Sources: DES Mapping Solutions, Hindu Business Line