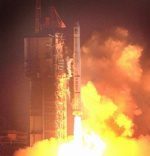 The five planned launches include:
the combined launch of two micro-satellites to monitor the sea for Luxembourg with a January launch date
two communications satellites for Hong Kong-based APT Satellite Co.
two remote sensing satellites, one for Venezuela
The increased activity by China gives it at least a 15-percent stake in the satellite launching business. This success in attracting business follows the country's successful launch of a communications satellite for Pakistan in August of 2011, and the launch of a communications satellite for a major European communications provider in October. 2012 will also mark the first China-made remote sensing satellite export with the launch of the Venezualan satellite.
The China Great Wall Industry Corporation has set aggressive goals to take a 15-percent share of the commercial launch market, and a 10 percent share of the satellite export market by 2015.