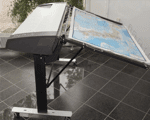 There is still a ton of paper, whether it is maps printed from a GIS or drawings or schematics from other systems. There is a lot of collaboration that takes place with markups on paper, and at the end of the day. In the GIS world, we see maps, aerial photographs, and other imagery and content that needs to be captured by a scanner.
There are three applications of paper-based workflows that occur a lot:
The largest is capturing and archiving material in a database or file structure. There are a lot of agencies and property records that are in report format and are interested in getting into a digital workflow.
Others are incorporating a lot of paper and drawing in their workflow, and scanning provides a capture of collaborative markups taking place on paper documents.
There are also still organizations that are digitizing off of existing maps or things that were not created digitally.
There are always more advanced organizations than others, and the hold-outs can benefit from much more advanced tools if they have waited a long time to go into a digital workflow. For instance, today's scanners are extremely fast, with the latest Contex HD Ultra model scanner achieving 6" in color at high resolution and 12 inches per second in grayscale. Additionally the resolution of 1200 dpi that is achievable provides a very detailed view of the paper, capturing all markups. The Contex scanner also does its processing in 42 bit, greatly reducing the processing time.
When there's the need to coordinate complex projects between disciplines, the scan to digital approach saves time and improves record keeping. When workflows involve disciplines that are fully digital in their approach and others that work more through drawings or reports, the scanner can be a point of collaboration.
With scanning maturing in terms of speed and resolution, there are additional features that ease the handling and feeding of media into scanners and deal with dog-eared or older and more fragile documents. Scanners are also becoming network-enabled to scan to e-mail, to networked computers or to scan to a printer to make a high-resolution copies.
In today's digital world, it's perhaps hard to remember some of the technologies that made us digital to begin with. The scanners available today provide an important bridge between these worlds, and upon examination organizations are finding scanners to be an important piece in streamlining their operations.
___
Details for this report come from a conversation with Phil Magenheim, president, Contex Americas