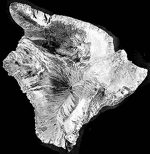 There are several different typse of radar, but the predominant method for imagery is Synthetic Aperture Radar (SAR), given its finer spatial resolution. SAR uses a single beam-forming antenna that targets a scente taht is repeatedly illuminated with pulses of radio waves at different wavelengths. The echo waveforms are detected and storems and then post-processes together to provide an image of the target. Current airborne systems provide resolutions of roughly 10 cm, with ultra-wideband systems providing resolutions of a few millimeters.
Radar imagery comes back with different intensities. levation measurements with stereo radar. Shuttle Imaging Radar has been a popular source (SIR-A), and was first launched in 1981. The stereo radar returned from the Space Shuttle Radar Topography Mission returned a near global digital elevation model of the earth.
Some of the radar services and data resources include:
Radardsat is the Canadian commercial satellite, with the first RADARSAT-1 launched in 1995, and the second RADARSAT-2 launched in 2007. The effort is a consortium between MacDonald Dettwiler and Associates, Spar Aerospace, Com Dev and Lockheed Martin, with support from the Canadian Government. The data from this satellite, as well as data from other earth observation satellites, is marketed and distributed by MDA Geospatial Services.
TerraSAR-X is a German earth observation satellite that is a joint venture between the German Aerospace Center (DLR) and EADS Astrium, with the geo-information produced by the project available trhough the service provider Infoterra GmbH. The satellite was launched on June of 2007, and a second satellite TanDEM-X was launched in early 2010 so that the satellites can act as a pair for elevation data collection.
Intermap collects elevation data aerially, using aircraft equipped with Interferometric synthetic aperture radar (IFSAR) sensors. In 2002, the company began its NEXTMap program, which focused on collecting and processing 3D digital elevation datasets for entire countries. The entire United States was completed in June 2010, Wester Europe was completed in July 2008, and more than 2 million square kilometers have been mapped in Southeast Asia.
There are a great many of applications for radar imagery, outside of its ability to see through clouds or reveal elevation, in a wide range of fields. Due to consistent cloud cover, radar will be a go-to imagery source in tropical countries for a long time to come.