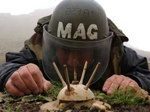 Most of us were introduced to the global problem of landmines by Princess Diana's campaign in 1997. A landmine can kill or maim for up to 50 years after the end of the conflict in which it was laid, and almost half of all landmine victims are women and children.
Today, at least 66 countries are contaminated with over 200 million mines. Huge areas have been evacuated and closed down because of suspected mine contamination. This has a massive impact on the agricultural economies of affected countries.
Mapping minefields for clearance is as complicated as finding precious minerals. Not only were most mine fields never mapped, they expand every year with floods and mud movement. Often, 80 percent of all funding raised for clearing a certain area, millions of dollars per project, are spent on the tedious manual, slow work of reduction of the area suspected of being mined. With the rate of spreading of new landmines, and limited financial and human resources available it seems like a losing battle.
Over the years, every direction of research has been trialed including elephants and rats.
In 2004, Danish research found that a common plant of white flowers called Thale Cress, turns red when it grows above active landmines for over a year. This is because active mines release tiny amounts of Nitrogen 15, a variant of the most common Nitrogen 14 atom, which changes the Thale Cress to red.
Since planting thale cress over millions of suspect square kilometers is not practical the research was never picked up. But it seeded an idea with a mind of an Israeli entrepreneur and geologist named Avi Buzaglo -Yoresh. He found Nitrogen 15 causes a very specific chemical change in most plants growing above active landmines. It took him two years to work out how to analyse the change through the spectrum of the light reflected by affected plants, in a resolution that is good enough to clearly identify the landmine.
With the assistance of geospatial specialists, a simple process was developed whereby which a light aircraft fitted with a hyperspectral camera photographs large areas. The results are analysed and mapped overnight and by the next day landmine search teams can concentrate their efforts in clearing only the contaminated area. A recent project in Angola reduced a huge search area by 93% after just two days of mapping.
With the potential to reduce the cost of landmine clearing by 90% ,speed up the process manyfold and remove most of the risk associated with it, Avi Buzaglo-Yoresh's company Geomine has been engaged by several countries and the UN for landmine clearing projects. http://www.geomineisr.com/
——————————————————
Jose Diacono is a Vector1 Media columnist and spatial media specialist based in Australia (www.communica.com.au). This story was sourced from Jackie Taranto's opening speech at [email protected] Canberra, Australia. Ms Taranto is CEO of Hannover Fairs.