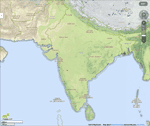 MapQuest has fully embraced the open technology of OpenStreetMap (OSM), having launched sites built on OSM data in many countries and continents this year with more to come throughout 2011. India was among the first of these sites to launch, with activation in October of 2010. Current sites in Europe include the United Kingdom, France, Germany, Italy, Spain, Austria, Belgium, Netherlands and Switzerland. MapQuest just launched an OSM-based site this week in the United States.
The mapping site in India (http://open.mapquest.in/) was MapQuest's first foray into the country, and it was built with OpenStreetMap data and with open data update tools. The site includes familiar easy-to view MapQuest styles, points of interest for businesses, and driving routes with draggable features. The benefit of the OSM platform for both users and MapQuest is that data can be updated on the map by users who simply right click on features on the map to propose an edit.
During much of this decade, AOL-owned MapQuest has not been known for innovation, taking a back seat to Google as they repeatedly offered new systems and services, particularly in the mobile handheld space. MapQuest seemed to be resting on its laurels as the first online direction site, while Google slowly knocked it out of first place in the online mapping world.
With the move to OSM data that began earlier this year, MapQuest forges a rebirth that gets away from costly licensing fees that they are forced to pay to geospatial data vendors and instead harnessesing the users as mappers for highly accurate and up-to-date maps. The growing worldwide number of OSM users and contributors means that there are teams of thousands of mappers that are constantly adding features and details to make the map more closely resemble reality.
"The launch of MapQuest's open site is significant as it enables all MapQuest users to play an active role in improving the depth and quality of the map," said Christian Dwyer, senior vice president and general manager, MapQuest. "The average MapQuest user is getting maps and directions within 25 miles of home or work, and the open site employs a 'neighborhood watch' idea, encouraging individuals to take ownership of their localities and make the map reflective of the world around them."
The latest site covering the United States can be found at Open.Mapquest.com.