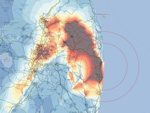 Two independent teams have done a thorough job of documenting and mapping the extent and intensity of the impact. Researchers from Japan, Norway and the United States teamed to analyze the impacts that were published online this week in the Proceedings of the National Academy of Sciences. A second report, from a separate group of Japanese scientists, investigated levels of radioactive cesium, iodine and tellurium on the surface in east-central Japan.
At the end of August, Japan's Ministry of Education, Culture, Sports, Science and Technology (MEXT) released a map showing caesium-137 concentrations in the soil from measurements at more than 2,000 locations in and around Fukushima. However, the government has been slow to share broader radiation readings, and historically notorious for their willingness to share this type of data with the public. The scarcity of reliable information led to a public effort with Joi Ito, director of MIT Media Lab, as an instrumental actor in getting a crowdsourced solution off the ground.
Volunteers armed with sensors have been hard at work to understand and map the radiation impacts through the nonprofit organization Safecast, which has a global presence. These volunteers use a number of sensors such as geiger counters to measure raw radiation levels from moving vehicles and on the ground, to help determine hot spots that should be avoided.
In addition off-the-shelf sensors, the Safecast group has configured a sensor cluster they've named Bento geigie that is made up of a geiger counter, a GPS receiver, and an SD card to record readings. These devices are being distributed for vehicle-based sensing, and the readings are being aggregated on a map in order to communicate the contamination levels to the public.
Among the interesting findings from all this data is that the mountains sheltered northwestern and western parts of Japan as the radioactive cesium-137 that came from the plant largely blew into eastern and northeastern areas.
The Japanese government has taken responsibility for decontamination in the country. The levels of radiation are expected to severely restrict food production in eastern Fukushima Prefecture and hinder agriculture in neighboring provinces. The hotspots are being documented closely, and soil is being decontaminated in areas where there is high concentration.
While it's reassuring to have readings on a map where they can be quantified and monitored, the recovery process is a long one with any radioactive contamination as the half-life of these radioactive elements is at minimum 30 years.
Resources