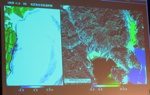 KKC has geospatial data acquisition methods covering ocean bottom to satellite and everything in between. The progression of data collection at KKC went from the first step of rapid response with broad-scale satellite imagery, then airborne imagery (lidar, nadir, oblique imagery), then precise measurment with the Mobile Mapping solution (MMS) with vehicle-based lidar, then terrestrial on-the-ground surveying, followed by field research. They have compiled an archive of aerial imagery that shows before and after impacts as well as a 3D city model to show how areas have changed.
The initial focus for this damage details is to show how the buildings were damaged. In Kesennuma City, Miyagi Prefecture, where there was a great deal of tsunami disaster impact with debris and structure damage, they have done detailed assessments on buildings and quantity of debris. They have surveyed seven cities with MMS with 450 kilometers total of detailed lidar that take up a lidar data volume of well more than 85 GB. The MMS point cloud has been filtered with aerial lidar data for a richer 3D data set.
Some of the assessments that have been done using the data include DTM cross sections to investigate road surface flatness, and comparisons of before and after lidar data to determine house locations. Much of the reconstruction effort is based on this detailed data that has been collected, and the models that have been created.
KKC took on this data collection effort as an in-house initiative, because it tied in well with a lot of data collection that they had conducted before the tsunami hit. The data has proved valuable to local governments and citizens, and there are some clients that have helped amortize the work.