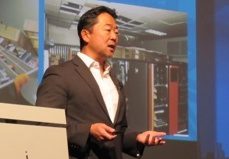 Dr. Kit Miyamoto, CEO of Miyamoto Intl. and a structural engineer, gave the last morning's keynote on disaster relief and engineering at the Bentley Be Inspired event in Amsterdam. His talk started with a recap of the Haiti earthquake, and discussed the loss of 300,000 people because earthquakes were thought of as a low risk in the area. In Haiti, Miyamoto trained 600 Haitian engineers to do damage assessment after the event, classifying more than 400,000 buildings as to their damage level and whether they were safe to enter. The team also trained 500 local masons to repair the lightly damaged buildings to get people out of tent cities.
The earthquake and subsequent tsunami in Japan hit close to home for Miyamoto, because he grew up in Japan and had been to Sendai in his youth. The warning and communication system was one of the bright spots of the disaster, because it worked well and many people escaped before the tsunami hit. The significant sea walls that were meant to protect from the disaster gave the community a false sense of security however.
In Christ Church, New Zealand, many of the heritage buildings were lost, and roughly half the structures in downtown could be torn down due to damage. Modern buildings that were designed to code didn't fall down, but are damaged to the point of replacement. Miyamoto asserts that we're designing throw-away buildings if we don't design for seismic energy.
We cannot design to just protect, but to preserve. The options that we face are to do nothing, to manage the risk through insurance coverage, or to assess and reduce the risk through engineering analysis and strengthening. The most reslient approach is seismic strengthening.
Myamoto showed the performance of several improvements that are effective to reduce damage in earthquakes:
large viscous dampers that look very much like shock absorbers greatly improve earthquake performance
base isolation with rollers allow the building to be decoupled from the ground
a tuned mass damper counteracts the direction of sway
shear walls with bracing provide isolation from lateral sway
School buildings are one of the most dangerous structures, because they have large rooms with a lot of windows that have very little structural bracing. Thousands of children were killed in classrooms in Sichuan, China because of the timing of the event. Many cities are realizing this danger and retrofitting their classrooms to factor in the risks to our next generation.
Planning earthquakes is an issue of sustainability, because of the tremendous amount of waste that is generated in earthquakes. There was more than 10 million cubic meters of debris in Haiti that has taken a great deal of time and energy to remove. Planning for greater structural strength can reduce this wasted energy, and greatly speed recovery.
As engineers, we need to understand that we have not conquered nature, and that there are many things that we don't know. Building codes change every year, because we learn new things, but while designing to codes saves lives, it doesn't preserve civilization. Being creative and innovative can manage risk cost effectively.