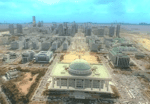 In addition to detailed building models, with high-resolution facades through the application of 10 cm aerial images, the interior of some of notable buildings are also being modeled. The Ancient Palace is one of these places that have been modeled with highly detailed renderings of interior fixtures and artwork, both for preservation and also to promote tourism.
With city planning projects, the bird's-eye view and detailed land-use informaton are compiled for any project. 3D modeling is then made available online for public input and communication. The city's 12 million residents also have public web access to the model.
As with all 3D projects, there are limitations that would improve greater 3D adoption. The high volume of the model requires the upgrade of network infrastructure in order to send and collaborate on large volumes of data quickly. There are limitations on the performance of mobile devices in order to use the 3D model in the field, and there is a need for better display and interaction interfaces to make the use of the model more intuitive. The high cost is also a large factor for broader use as the creation of a detailed 3D model requires high-resolution aerial imagery and labor-intesive tasks to add detail and realism compared to 2D data.
The Korean government has also invested heavily in 3D city modeling, with 20 cities constructed between 2004 and 2008. The procedure and standards for 3D geospatial information was established by the Ministry of Land, Transportation and Maritime (MLTM), with legislation on Aerial Laser Mapping Operation and Regulations for 3D Spatial Information Operation. Much of this broadscale map 3D mapping has been accomplished with stereo aerial photographs, and aerial laser mapping, however new multi-look oblique digital aerial mapping has sped up the process and reduced the burden on keeping this information up to date.