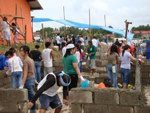 Slums and informal settlements are often chaotic places where it becomes very difficult to survey and map due to resistance by locals, and because sophisticated equipment is sorely out of place in these environments. As a result, these areas are often blank spots on the map without street names or numbers, and as a result are neglected for redevelopment and improvement efforts.
Through alignment with the Gawad Kalinga, a grassroots Philippine outreach movement, the researchers found safety and a reasonable work environment. Gawad Kalinga offers settlements where inhabitants are given — "land for the landless, homes for the homeless, and food for the hungry" — with the promise that they won't engage in negative behaviour. The Gawad Kalinga slum-upgrading efforts build villages within slums, constructing both homes and infrastructure.
The main aim of the effort is to develop a toolbox for user-generated content and processes to support mapping, interactive design, and interactive visualizing for landscape design. The emphasis on low-cost necessitated the use of low-grade GPS, digital cameras, and more recently iPhones with data collection applications. The primary surveying applications that the team used were MotionX GPS and GyroSurveyor to estimate distances through the visual range and orientation of the phone's camera. Street data was collected and placed in OpenStreetMap, and 3D building blocks and streetscapes were extracted from photos and modeled in Google SketchUp.
The slum-upgrading projects to date suffer from a lack of precise geographical data to make the projects tangible and accounted for by governments. In addition, the mapping efforts help to provide informal settlers with the formality of an address so that their needs can be considered, moving "away from isolation, addresslessness and "untraceability", towards a collective urban identity and territorial consciousness."
Via DigitalUrban.org
RESOURCES
A detailed paper on 'Grassroots GIS' appeared in the open-access journal Future Internet on Oct. 22, 2011, and can be accessed here [PDF]. Details regarding project fieldwork are outlined in a 2010 paper by Jörg Rektitke and Philip Paar that can be accessed here [PDF].