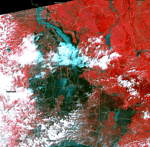 To date, Thailand's worst flooding in half a century has killed more than 375 people since mid-July. The flooding has also disrupted nearly 2.5 million people, with more than 113,000 in shelters and 720,000 seeking medical attention. All of Bangkok could be under water if dykes fail, and many fear that the level of flooding that is expected could last more than a month.
The local authorities have a number of maps and interactive websites with details about current flooding. The Bangkok Flood Monitoring System from the Department of Drainage and Sewerage provides a detailed and updated view of where there is flooding in the city.
National authorities are also providing map details and issuing reports of flood impacts. The Emergency operations center at www.disaster.go.th, has daily detailed reports about the spread of floods, a count of those dead and missing, the amount of rainfall, and the estimated damages to agriculture, transportation, and other infrastructure. The Thailand Flood Monitoring System provides an interactive map with details on the extent of flooding, and allows for the download of KML files for viewing in Google Earth as well as Esri Shape files for download and viewing in ArcGIS. The Map of Flooded Roads from the Thailand Highway Department has road status updates across the country. The site Thaiflood.com contains resources and updates for flood victims.
The Asian Institute of Technology has been instrumental in reporting, but unfortunately became inundated on Oct. 22nd. Despite being displaced, they continue to host and update the Thailand Flood Crisis Information Map, an instance of the popular crisis mapping tool Ushahidi, which catalogs personal reports on requests for help, available accommodation, reports on traffic, and warnings.
Geospatial technology vendors have also been quick to act, setting up helpful sites to communicate changing conditions. The team of Esri Thailand, Nostra Map Service and IBM have a richly detailed and interactive map of the flooding. Google Crisis Response has an interactive map and other resources that help citizens convey details about current conditions.
At the international level, the United Nations Institute for Trianing and Research, Operational Satellite Applications Program (UNOSAT) has delivered imagery analysis and satellite data to help deal with the crisis. UNOSAT has developed a regularly updated Satellite Imagery Atlas as well as regular updates on flood water changes using a variety of satellites. The NASA Earth Observatory has also compiled before and after imagery of the flooding that allow for image comparison of the historic city of Ayutthaya north of Bangkok.
As with most disasters these days, Twitter is proving to be a good tool for personal accounts of current conditions. The relevant twitter hashtags are #bkkflood, #thaifloodeng, #thaiflood.
The proliferation of mobile phones as the central contact point for our communications has also spawned several mobile applications. A Thailand Flood Maps application is available through the Android Market, with multiple different views at different scales that aggregates data from a number of official sources onto a Google Map interface. There is also an Apple application called the Thai Flood Reporter available through iTunes with maps and the ability to receive SMS updates. Both have received strong positive feedback from users with high rankings.
With all the tools at play, the communication channels for details on this disaster seem open and transparent. Hopefully this level of communication will help to reduce the impact to people and property. If you're in Thailand or aiding in the event, know that the thoughts of the global geospatial community are with you.

Additional Resources:
Thai Rain Map – a Google Maps mashup showing where it's currently raining in Thailand