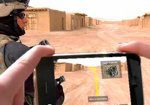 In addition to ongoing threats from WMD and terrorism, there are a number of new developments that pose stability issues across the globe. As the world becomes more urbanized, issues with megacities pose problems as these resource-intensive areas have the potential for social conflict. Continued environmental stressors, including water scarcity, are factors on our ability to feed our populations. The emergence of a large middle class around the world comes with a huge demand on resources and services, further stressing fragile regions. Financial instability disrupts the economy worldwide. There are also increasingly empowered non-state actors that pose threats to governments.
The ability to visualize the people's perspective is aggregated well within a geospatial context. The sharing of information to build an integrated operating picture from multiple systems, with input from social networks, is seen as the goal going forward. Someone out there knows the information we need, and the communication and local insight, is needed in a predictive manner in order to head off disruption before it has impact. In addition, the response has to be inclusive with a multi-agency approach that isn't simply a Department of Defense effort, but that includes other governments, local institutions and international non-governmental organizations.
New Data Sources
Mobile phones are increasingly the sensor platform of choice where everything and everyone could be a source of information. New data sources include autonomous sensor systems that operate without human intervention. There are now needs to integrate and analyze these details, with a move away from just pure geospatial content, to incorporate other content as well. With all these growing threats and growing inputs to data, the signal to noise ratio is growing and making it easier to hide. To address this issue, flexibility and agility are more important than ever.
As data becomes such a commodity, the value proposition for military intelligence agencies change. The U.S. National Geospatial-Intelligence Agency has been all about data, but now needs to shift to developing new methods, and taking a close look at how they analyze and what they get from the information they compile. Included in this challenge are the need to incorporate different geospatial disciplines.
Applification Adds Efficiency
NGA has made rapid progress on an application approach for delivering data and intelligence to the field. Their in-house application development team received the go-ahead in June, and now includes eight developers that have launched a number of new applications for Android and Apple iOS devices. The application approach makes good use of the Agency's data and expertise, while allowing field personnel to be more self-selective in the tools that work well for them.
The handheld applications save the agency a great deal of time and resources, and delivers information in the way that the user requires. The move to digital is also taking place in how the agency serves the military, making their flight manuals digital, and helping serve lidar and other information to the field so that helicopters can determine the best landing site. Previously, flight manuals were printed every 38 days at a considerable cost. In fact, going digital will save the agency $20 million in printing costs per year. With applications providing self-service information, the agency can spend more time analyzing information to provide greater intelligence to the field.
Integration and Efficiency
Integrated intelligence promises to deliver the best possible solution set for policy makers, warfighters, and first responders to address the need for rapid decision making. The challenge is to integrate in a comprehensive way, knowing sensors and collection, so that the sum of the intelligence becomes more useful than the individual parts. Speakers acknowledged the difficulties and work needed to integrate, but many also pointed to the promise and power of cloud computing to aid this process.
Geospatial intelligence provides a foundational base where other intelligence can be overlaid. With the critical and growing need for actionable geospatial intelligence, the community will need to learn to do more with fewer resources.