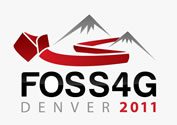 Growing Importance

Arnulf Christl, president of the OSGeo Foundation lead off the FOSS4G event this week in Denver, providing an overview of the leading voice for Geospatial Open Source software. By 2011 there are now 19,471 unique subscribers to OSGeo, more than 400 mailing lists, and more than 15 million lines of code, with 740 contributors, and 269 that have contributed for more than 12 months. Arnulf asserted that people are connected to the software, and stay with the software.
Local chapters of OSGeo exist in Portugal, Italy, Germany, Brazil, Japan, etc. In addition to the regular conferences around the world, there are events for coders to meet and work on software problems, called codesprints or hacking events. And there is a growing outreach to universities to teach students the stack and see the user base grow.
A Hybrid Perspective

Peter Batty, chair of this year's conference, said that he feels he's in the peaceful neutral zone where he uses both open and closed source software, with good and bad software on both sides. He said people are wary of open source, because they don't know much about it.
Batty's current work on Ubisense MyWorld originally began with Google Maps and Google App Engine, but the licensing and security of the environment didn't work well for customer requirements. Instead the solution was ported to PostGIS and MapFish (for a restful API for Web Mapping), providing the flexibility to run on both the cloud and in a hosted environment. The latest iteration has been tuned to work offline in order to meet fieldwork demands of customers, using OpenLayers and OpenStreetMap.
More and more open source tools meet the functionality requirements, with the added benefit of being free. Software cost certainly isn't the only consideration, with implementation costs a factor. But without licensing fees and maintenance support, and with added flexibility of source code access, there can be significant savings here. The issue of support has been a consideration, but now there are several open source companies that provide packaged software and support. The added benefit of open source is the ability to quickly enhance the core software by applying your own coding resources or by hiring skilled developers.
Legal terms and predictability are two issues that Peter has faced in his career. The legal licensing of the Google stack was an issue as outlined above, and he has seen solutions pulled from the market by vendors despite an installed customer base. Hybrid scenarios, where open source and closed source software work side by side, are the norm. The take away is not to choose closed or open source, but to choose for functionality, flexibility, stability, cost, support, and predictability.
OS Goes Open

Peter Ter Haar, director or products at Ordnance Survey (OS), gave the opening keynote this morning at the FOSS4G event. The organization is responsible for the most accurate and up-to-date map in the world, with half a billion data points, making five thousand changes every day, with 99.9% of real world changes represented in the database. However, the Google purchase of Keyhole in 2004, with launch of Google Maps in 2005, was a watershed moment that not many responded to, and now they are catching up.
The Ordnance Survey is tackling major change and addressing licensing problems, pricing issues, and partnering issues. They have significantly opened up their products for resellers and developers with new licensing. They were told to open up their data by the government, including a high profile meeting between the prime minister Gordon Brown and the founder of the World Wide Web Tim Berners Lee. Subsequently, they made a subset of their data for free, with no restrictions. To encourage more use, they are running master classes to teach developers how to use this data. Since the launch, they now serve more than 1,000 packets of data per week to various applications.
Over the past few years, Ordnance Survey has learned some things. Rather than just releasing data, they realize they need to provide support and need to engage. They also learned they need to be brave, where some uses of data are going to be for things that they don't like, including a few downloads from Yemen. The "innovate or die" slogan has become very important for the organization, and Ter Haar encouraged the community to be patient, and help us.
Tool Highlights

An OSGeo Live packaging of software was distributed at the event and is available online. This package can boot direct from a DVD or thumb drive, allowing those interested to test out the full stack without installing it direct to your machine. Data has been an ongoing interest to populate the FOSSGIS stack, and has really been jump-started with OpenStreetMap involvement. Among the other new and updated tools announced at the event, include:
CartoSet and CartoDB from Vizzuality.
WebGL Earth a 3D globe written entirely in JavaScript
PostGIS 2.0 with raster, 3D support, new functions for slipping and snapping geometry, and topology models.
As is the norm at these events there was both a technology shootout, and a codesprint. The shootout tackled a key area of server-side development with Web Processing Service (WPS) approaches between 52 North, GeoServer, GeoTools, PyWPS, and ZOO-project. The codesprint took place on the campus of CU Denver, and reports from the event speak to bug fix success and other progress.
The five-day event was hailed by many as a well-produced and well-run event, which was gratifying to the local committee and the professional services provided by GITA. There certainly feels like there is great momentum with the tools and approach of the open source community.
Blog Posts from the Event
Video links of the event: