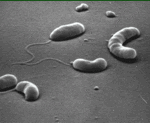 Through gene sequencing and mapping of 154 patients across the world over 40 years, studying single DNA changes, researchers were able to track the strain of bacteria back to its origin in Bangladesh. This strain became drug resistant in 1982, which renewed it global transmission and impact.
The new research examines the role of modern travel in transmitting the bacteria, as well as the importance of the Gulf of Bengal as a renewing source from which the bacteria can be transmitted. The global spread of this same strain has reached Africa, South Asia and South America.
According to the report, "the evidence suggests that there have been at least three independent overlapping waves of intercontinental spread with a common ancestor in the 1950s, representing the original El Tor strain. These movements are strongly correlated with human activity, suggesting that the strain has been carried by human travel."
Prior to this research that have pinpointed the origin, it was believed that cholera always rose from a local strain that became active due to poor sanitary conditions. This study illustrates the powerful combination of genomic research and mapping technologies to display our interconnected pathways for disease to spread quickly. Given this impact, more research and resources will likely be brought to bear on pandemic tracking and abatement in the future.
The full report was published and is available from the journal Nature.
Read more about this public health story via this Sanger Institute press release.