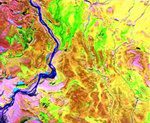 Knowing what is where provides the basis for harnessing natural resources, and enabling economic and social development. While natural resources may abound, locating and identifying resources for extraction in a proficient and environmentally-conscious way requires details maps and plans provided by the geomatics professional.
Along with the growing infrastructure opportunities, the developing world also has the advantage of advanced geospatial technologies with a complete digital workflow at unprecedented spatial accuracy. Lidar mapping, which uses lasers for distance measurement and 3D point cloud generation, can be combined with digital cameras for a high-resolution capture of large areas from the air. The detailed terrain model that results provides ground elevation as well as a 3D model of such elements as tree canopy for an efficient survey that requires very little ground control due to its accuracy. Instead of waiting months for labor-intensive processing, the digital workflow provides accurate turnaround in weeks.
With hyperspectral remote sensing technology, a wide array of vegetation and mineral deposits can be determined from the air. These techniques can be applied to determine mineral deposits for exploration, can determine different species of trees in a forest along with their health, and can determine soil types and vegetation health for agriculture.
There have been amazing advancements in large-scale mapping technologies, with imagery and other data available from a myriad of global providers. On this large scale, there are also incredible advancements of software and systems that are increasingly automating production mapping, reducing the time and cost of producing country-scale mapping products. While large-scale mapping has advanced, the benefits of the Internet, social media, and networked devices are pushing what's possible on community-scale mapping. Whether at the local or larger scale, geospatial tools are ideally suited to help the developing world balance infrastructure investments with eco-social impacts and benefits.