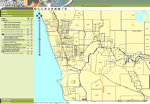 Public spatial data includes traditional framework sources such as property boundaries (cadastre), topography, aerial and satellite imagery, and environmental data. There are also new and emerging spatially enabled datasets such as demographic analysis and health. The increasing use of sensors, the pursuit of more accuracy, the creation of 3D data, and the addition of temporal time-stamped data means that spatial data warehouses will continue to expand exponentially.
Australia's Cooperative Research Centre for Spatial Information (CRCSI) is aiding in the research for this marketplace by conducting an alignment study to understand what data products have been built and how they relate between the two countries. CRSCI has estimated that the spatial information industry contributes about $10 billion to Australia's GDP and at least $1 billion to New Zealand's. They expect that the systematic development of the marketplace will add several billion dollars more to this figure. The alignment of Spatial Data Infrastructure (SDI) initiatives between the two countries will also save money and resources.
The centralization, and easy discovery of related data sets, will greatly aid spatial analysis and insight into trends. The move is also planned to adopt open standards and Creative Commons licensing to further add to the transparency. The Creative Commons licensing allows others to distribute, remix and build upon the work, even for commercial purposes, as long as they credit the original creators and license any new creations based on the work under the same terms. This liberation of spatial data will lead to all new applications, and the marketplace aims to be a distribution source for these as well.
A demonstration portal will be developed in the next few months to catalogue up to 500 datasets from linked sites and allow access to services and web-based Apps. This one-stop-shop will be similar to the award-winning Shared Land Information Platform (SLIP) that was develped in Western Australia.