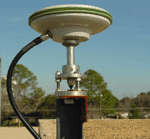 Precise positioning for geodetic, surveying and critical real-time machine guidance applications requires a substantial investment in ground infrastructure in the form of continuously operating reference stations (CORS). The federal government, state governments and the government of New Zealand are currently establishing CORS networks in high-value markets. The foundation infrastructure in Australia is funded under the AuScope initiative, and there are now more than 250 stable CORS across Australia and New Zealand as part of this effort.
Among the economic benefits from more precise positioning are:
Agriculture and Australia's largest export industry of mining and minerals exploration both rely heavily on spatial technologies, and with more precise positioning they can both move to more automated systems with machine guidance to greatly reduce manpower costs.
All property transactions rely on detailed land records, with greater precision it will become easier to determine precise property boundaries quickly.
From a larger scale, Australia is extremely vulnerable to floods, bushfires, and cyclones. Higher presicion will provide the means to rapidly respond to these natural disasters, and to reduce their impacts on human health and the national economy.
By 2015, if satellite launches proceed according to plans, there will be up to three times the number of satellites and 4-6 times the number of signals, compared to today's 50 satellites, on which two-frequency measurements can be made. The more satellites and signals, the better the positioning performance is in terms of accuracy, availability, reliability and integrity. But there are technical hurdles to reach the proposed 2-cm countrywide positional accuracy, particularly around resolving signal processing problems between all of the satellite navigation systems, and the ability to integrate measurements from these systems. Additionally, there's the need to develop a single network that is available to all end users for real-time positioning across the country.
You can read the National Positioning Infrastructure (NPI) Policy document via ANZLIC, the Spatial Information Council, here [PDF].