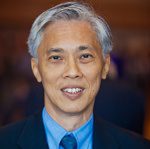 The government of Singapore has been working on networked information systems and an e-Government strategy since 1980. During that timeframe the government has developed many one-stop government services for the more than 70 individual agencies. Through this timeframe, four hubs have emerged to reduce redundant government tasks such as the collection of citizen address information, which 70% of the agencies were each individually collecting. There four hubs are land information, people, security and business.
Singapore's OneMap, which we've reported on earlier, began in 2008 with a comprehensive survey of all agencies. The results of the research showed that 84% of government agencies realized they needed GIS, and that 34% of agencies were using GIS. A whole government approach arose from this called SG-SPACE (Singapore Spatial Policy and Collaborative Environment) where spatial data will be shared within a consistent framework.
The architecture of SG-SPACE means that agencies can share data via the system without the need to each have their own individual portal. The policy framework sets standards for data collection and sharing, with a central clearinghouse, and common tools and services.
OneMap was launched in March of last year, and it provides accurate and timely data to the public with a number of services and functions that are continuing to expand. OneMap aims to spur innovation across the public and private sector by providing an ability for citizens to explore and businesses to collaborate with agencies. Among the next steps are an open application programming interface (API) for citizens and developers to create their own applications upon the government data.
Singapore is unique in terms of it's cityscale (710 sq. km.) country size, it's high GDP per capita, it's multiracial and multi-ethnic population, and its business-friendly standardization on the English language. While the achievements may be discounted based on the lack of typical country-scale constraints, it's no less amazing what has been achieved and what is possible with this framework and vision that are in place. Singapore is showing the way with what's possible with a networked government with GIS at its core.