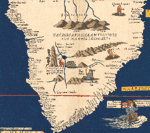 The ability to explore historical events through both place and time provides a whole new level of scholarship. Mapping reveals patterns and allow for the systematic analysis of layers of information that reveal new insights that are impossible to see out of context.
In many cases, historical sites are far removed from their original state due to development, changes in vegetation, and changes in topography due to erosion or earth moving. Recreating place in historical context from old maps and first-person accounts has become a scholarly pursuit. With the resulting picture within a GIS, researchers are able to recreate history and see exactly what historical actors were able to see.
GIS technology was first applied to issues of history in archaeology and economic history, with its measurable and sharable information. GIS has further enhanced scholars ability to speak of spatial problems and reopen spatial questions across the academy. Every discipline in the humanities and social sciences has been stamped with the imprint of spatial questions about nations and their boundaries, states and surveillance, private property, and the perception of landscape, all of which fell into contestation during the nineteenth century. Whole new levels of interdisciplinary collaboration regarding our exploration of history may be taken in the spatial era of GIS.
References