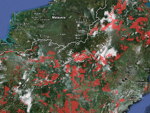 REDD is a method of putting a price-tag on the carbon storage and sequestration services provided by forests. The basic premise of REDD is that without it, a certain amount of carbon dioxide would be emitted due to the loss or degradation of unprotected forests. More recent discussions have broadened the scope of REDD (known as REDD+) to recognize carbon benefits resulting from sustainable forestry.
The researchers built the REDD Calculator in response to a need for a transparent, flexible and easy-to-use way to map, display and assess the impacts of the moratorium. The tool has a web-based interface, and spreadsheet-based functionality, in order to make the tool broadly accessible for policy makers, vested groups, and outside watchdog organizations.
The tool provides the means to evaluate the environmental and socioeconomic implications and tradeoffs of different alternative scenarios for the moratorium in Indonesia's Kalimantan region. Users can quickly quanity the benefits of moratorium implementation for carbon conservation and its opportunity costs. Central to the application is a mapping function to visualize the outcome of different scenarios.
Data behind the REDD calculator include satellite imagery from NASA's Moderate Resolution Imaging Spectroradiometer (MODIS), Landsat, Daighi-Advanced Land Observing Satellite (ALOS), forest details from the World Resources Institute, Sekala, and the Ministry of Forestry of Indonesia.
The REDD calculator was developed by Lian Pin Koh of ETH Zurich, Holly K. Gibbs of the University of Wisconsin-Madison, and Peter Potapov and Matthew Hansen of South Dakota State University.
The researchers found that a moratorium that included only primary/intact forests would protect ~9.1 million hectares of land across Kalimantan and ~7.1 billion Mg of biomass and peat carbon. In comparison, if secondary forests are additionally included in the moratorium, the total land area under protection would double to ~18.7 million hectares, and a total of ~9.7 billion Mg of biomass and peat carbon would be protected.