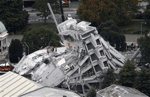 New Zealand public safety is rather unique as it has one police/fire communication center that provides a nationwide view of all events for all agencies at all points in time (perhaps the only example of this in the world). The virtual online system is an Intergraph I/Computer-aided Dispatch (CAD) system with Oracle as the database. The fire, police and ambulance each have their own dispatch, but all are coordinated centrally in the CAD.
The Communication Centre in Christ Church was impacted rather heavily from the earthquake, given that it took six days to restore the main power, but it kept running with generators. Some of the capacity of calls and reports were handled by the redundant Auckland center. Digital radios were valuable to reroute and allow for a virtual call centre.
As with most natural disasters, maps were a major information resource. These maps were produced by the Ministry of Civil Defence and Emergency Management, with GIS data shared via Web Feature Services from Intergraph WebMap. New layers were created for road closures, restricted zones, etc. Previously this level of sharing didn't happen, so a new level of sharing was ushered in with this event.
Unfortunately, given disruptions of networks there were communication issues between this system and other responding agencies. To alleviate issues of connectivity, runners took the data to the different agencies on a regular basis via thumb drives.
Fortunately, Christchurch had recently collected Lidar data for the entire city, so they flew lidar again and have been able to compare these detailed elevation datasets to see where the biggest surface and elevation changes had occurred. Pictometry oblique aerial imagery was also flown in order to assist the assessment of damages. Some ot the Christchurch suburbs have sunk so much due to liquefaction that the city is considering completely abandoning them.
The Canterbury Electricity Distribution Network experienced 75-80% outage immediately after the quake. The utility's highly accurate map of their low voltage network allowed them to quickly plan their response and communicate with the public. Within a day after the event they established outage maps that were published daily online. Given their understanding of the network, they were able to install a new 66kv line in two days whereas it typically takes six to seven weeks.
New Zealand is now looking at tools and procedures for a higher order of emergency management response. The aim is to collaborate across local, central and national government more readily as they realise that a cohesive government response, with a common understanding, is needed. At the top of their planning is a common map as this has become a critical element to ensure that everyone understands what's going on.