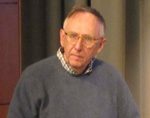 The drivers for the organization revolve around creative employees, engaged customers, and a large investment in research and development. Jack reached out to the forestry community present at the event, to have them work more closely on the problems that they face so that the tools can evolve to help them do more efficient work.
GIS is changing how we do work as a science-based framework to inform better decisions. In the forestry community it aligns with resource management, carbon accounting, sustainable forest management, workforce management, and field operations. Trends within the geospatial technology sector are that networks are getting faster, measurement is becoming pervasive and more real time, software is more open and robust, geographic science is driving tools and analysis, and open data policies are providing new ways of looking at government metrics. This is all leading to a better knowledge of how the world works, with greater consciousness of the interconnected nature of our systems.
GIS professionals are also building knowledge and sharing it in new ways, with data sharing across the Internet and to mobile devices, publishing data in applications, and developing more collaborative tools and ecosystems. Intelligent Web maps encapsulate knowledge and make geospatial data come alive. By simplifying, and 'mapifying' data, we provide a visual abstraction that takes complicated issues and makes them more simple and more easily communicated. Social media and real-time feeds are turning into a new kind of media.
The more easy it is to share information the more collaborative you become, and when it comes to government there is more access and interaction. GIS today is primarily implemented on the desktop, increasingly it's on servers, and it's becoming more federated at the enterprise level. The new patterns are on the Web with cloud services, and on the device with greater interaction. The vision is not to have different stovepipes of these patterns, but to have users accessing and interacting at all of these different levels.
This summer Esri is releasing a large cloud offering so that users can leverage server technology with cost based on demand. Esri is spending on order of $20 million per year to create content for use on the cloud, such as an imagery layer for the world. Some of the improvements that have come over the past year are a faster map display, template-based editing, integrated scientific programming, time stamping in the database to model and analyze on change, advanced spatial analysis, and 3D GIS.
Imagery is increasingly integrated with GIS, and now its going more real-time with on-the-fly image processing and analysis. The quicker processing lowers both the time for analysis, but also the cost as there's no pre-processing needed. There is an imagery library in the classified world where they serve up 17 million images in sub-second times, available anywhere in the world.
The mobile area is growing, with access to geographic knowledge from anywhere, and with a means to input and connect back to the enterprise. The idea of taking maps and models out to the world is as one map that can be accessed anywhere on any device. ArcGIS.com was created as a place where users can store some of their maps, access base maps, extend their maps and content, access analytical services, and to share. This summer Esri will add the ability to add hosted cached map and feature services, like Flickr for maps. The concept is the ability to quickly create your own service, without the overhead of setting up your own server and managing the background.