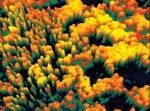 Measuring intensity of return let's us classify such things as coniferous versus deciduous trees, and also can determine such things as concrete from asphalt.
Lidar can be flown day or night, but there are limitations as it doesn't work above clouds or after the rain, and does best with leaf-off from late November through early May in much of the northern hemisphere for bare-earth models. Good vegetation mapping requires high density lidar. With the details returned you can classify forest height, and analyze that for stand delineation. Lidar minimizes the number of field plots that you take, reducing costs and field times.
The semi-automated method of lidar also allows you to do forest-scale mapping in very little time. Integration of imagery and lidar produces valuable information for forest management, and also has application for carbon accounting to understand the ecosystem services of forests. Lidar is a critical component for more accurate measurement of logging practices and emission and carbon sequestration calculations.
The true 3D data from lidar is a good tool for forestry for canopy information on height and percentage of cover, for 3d visualization of ground and land cover, and for analyzing slopes and the impact of forestry practice. We're at early days of understanding how this relatively new technology can be effectively used for natural resource management, and many more tools, processes and insights are sure to come.