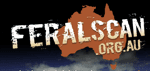 The interactive Google Maps mapping sites have been developed by the Invasive Animals CRC, NSW Department of Primary Industries and Ninti One Limited, as part of the FeralScan program that is being deployed across the country. This citizen science initiative harnesses the help of Australians travelling in the Outback, including rangeland landholders, four-wheel-drive enthusiasts, outback workers and other travellers.
The effort to map camels is one of the first,and most important. These animals were imported to provide transport between 1840 and 1907. With the advent of rail and motor cars, the domesticated animals were no longer in demand. What was once 20,000 controlled camels has now become a pressing problem as more than one million camels have made inland Australia their domain.
This FoxScan map illustrates the spread of these animals in mostly heavily populated areas.
"FeralScan is an important landholder, community, industry, government and business collaboration and we are confident that the CamelScan component will play an important part in national mapping of feral animals and their damage," Jan Ferguson, Managing Director of Ninti One Limited, the organisation managing the Australian Feral Camel Management Project.
The Australian Feral Camel Management Project is supported under the Australian Government Caring for our Country initiative and is addressing the urgent need to significantly reduce feral camel density to lessen their impacts in remote Australia on biodiversity, wetlands, waterholes and other sites of cultural value to Aboriginal people, infrastructure (fences, houses, cars) and personal safety.
This RabbitScan map illustrates the high density and countrywide issue of these invasive animals.
The interactive mapping sites summarize the number and density of sightings on the maps, allowing users to add their own sighting either anonymously or by registering and creating a profile. In addition to recording sighting details, there are also tabs to quantify the damage that has been witnessed, and to indicate control measurements such as rounding up the animals or killing for meat.
Visit the various FeralScan sites via this central starting point.