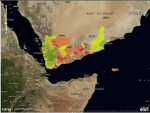 Google's Hosting
Google's announcement of Google Earth Builder outlined a cloud-based ecosystem for hosting and creating geospatial data. The new tool will be available in the third quarter of this year, and will harness Google's impressive computing power to enable enterprises to store and access terabytes of imagery and vector data for business needs.
Google discusses their plan in a blog post on the Google Enterprise Blog, with an emphasis on freeing geospatial data. The new tools allows the upload, processing and storage of geospatial data as well as the porting of this data to Google Maps and Google Earth. Ergon Energy, a Queensland government-owned electricity supplier, has already signed on and reportedly plans to save millions of dollars.
The marketing spin clearly targets desktop geospatial platforms, with swipes at the maintenance issues of traditional enterprise software, the licensing costs, and the need for specialized skills. Geospatial professionals have long made use of the Google map visualization tools to extend access and visualization of their data to consumers and customers. There's clearly a market for expanded use of these tools, but it's hard to see these tools replacing the need for professional enterprise systems, mapmaking tools, and spatial analysis functions just yet.
Esri's Offering
Esri's founder Jack Dangermond revealed plans for hosting via ArcGIS.com at the Where 2.0 Conference with a talk about a new paradigm of Living Maps. Dangermond discussed the converging trends that are changing our GIS systems, including greater computing power with faster networks to enable the cloud, increased data capture and measurements, sensor networks and crowdsourcing as means for more real-time inputs, with software that has become easier to use with more analytical capabilities, the maturation of GI Science that gives us a better understanding of how our world works, and the growing trend to more government transparency and open data. Together these trends bring a whole new capability for maps to become more pervasive.
Esri's move to the cloud is about connections from the enterprise to the web, mobile, and desktop clients. It's also about enabling dynamic maps and allowing users to author a map in a desktop, host it in the cloud, turn it into raster cache or feature services, and serve it back to other users, without having to buy a server. Jack put it succinctly as, "Blending cloud stuff with enterprise stuff."
Central to this move is the new medium of intelligent Web maps that blend together data, services and analytics in a format that is easily sharable and editable. Intelligent maps go anywhere from Apple's iPhone and iPad, to Android devices, to Windows mobile devices, and can be easily embedded in blogs and other media online. They are further made dynamic with social media to blend these real-time feeds.
In the demo portion of the presentation, we saw examples of this new level of intelligent maps with several case studies presented. A map of last year's Gulf oil spill was animated with temporal data to illustrate how the event evolved. The map integrated social media, hitting directly to the Twitter API for a map that tells a real-time story.
Maps of Census information provided deep levels of the demographic picture for the nation, including a new Three-way Map Viewer that allows the user to compare different views of the map at the same time. Each map is dynamically linked so that zooming into one area on one of the maps is replicated across the other two maps – staying together across space and scale.
Esri indicated that they will have a cloud hosting service available by this Summer.
The speed of today's networks enables these dynamic connections to background information that are drawn quickly on the screen. This new level of connectivity allows for very quick access and creation of maps online, and storage and sharing of maps across broad distances and distributed organizations. With the data and functionality hosted on the cloud, a good deal of overhead cost is avoided, particularly for organizations that have a narrow mapping mandate. The services will also appeal to organizations with a huge GIS presence that want to extend data and functionality to more stakeholders.