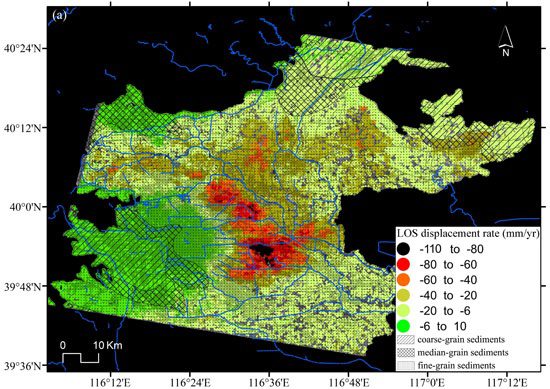 Researchers using InSAR satellite images (Envisat ASAR images and TerraSAR-X images) have determined that the geology under the city of Beijing is collapsing due to excessive pumping of groundwater. The imagery revealed that the central business district is subsiding by as much as 11 centimeters each year.
InSAR is a powerful tool for monitoring land subsidence. InSAR derived subsidence rate maps have allowed for a comprehensive spatio-temporal analysis to identify the main triggering factors of land subsidence. Some interesting relationships in terms of land subsidence were found with groundwater level, active faults, accumulated soft soil thickness and different aquifer types.
Th researchers are now working on summarizing the impacts that this level of subsidence will have on the city's infrastructure.
The city's groundwater had accumulated for centuries under the dry plain. Wells and pumping have caused the soil to dry out like a sponge and to contract.
The whole city is said to be impacted, but the most dramatic impact is in the city's Chaoyang district.
The article appeared in the latest issue of the peer-reviewed journal Remote Sensing.