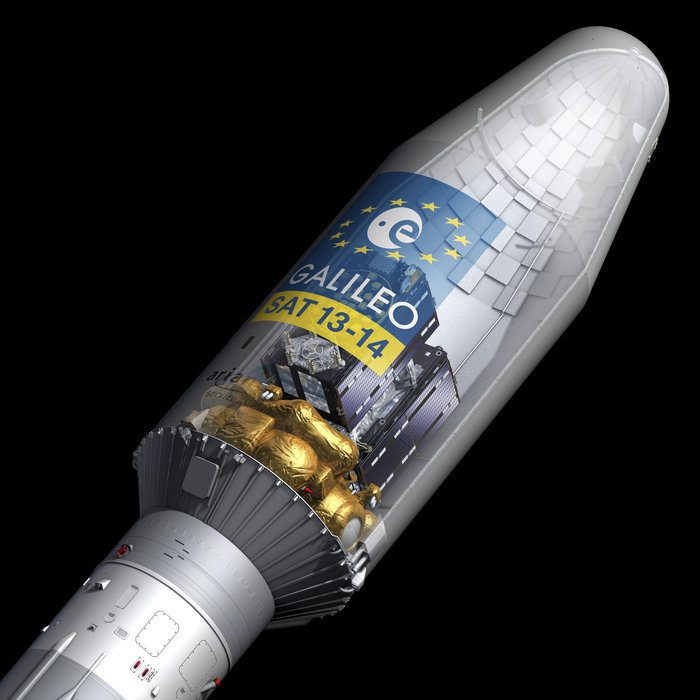 Europe took the next step in creating their own navigation satellite constellation on Tuesday with the launch of the 13th and 14th Galileo satellites. The pair launched at 05:48 local time from Europe's Spaceport in French Guiana.
This was the seventh Galileo launch, set to bring the number of satellites in space up to 14. Four more Galileos are planned to take flight in the autumn, launched for the first time on a customised Ariane 5 to bring the total number of satellites in the constellation to 18.
Galileo is Europe's civil global satellite navigation system. It will allow users worldwide to know their exact position in time and space with great precision and reliability. Once complete, the system will consist of 24 operational satellites and the ground infrastructure to enable the provision of positioning, navigation and timing services.
The Galileo programme is funded and owned by the EU. The European Commission has the overall responsibility for the programme, managing and overseeing the implementation of all programme activities.
Galileo's deployment, the design and development of the new generation of systems and the technical development of infrastructure are entrusted to ESA. The definition, development and in-orbit validation phases were carried out by ESA, and co-funded by ESA and the European Commission.
The European Global Navigation Satellite System Agency (GSA) is ensuring the uptake and security of Galileo. From 2017 Galileo operations and provision of Galileo services will be entrusted to the GSA.