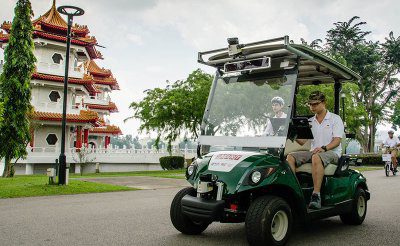 Velodyne LiDAR has teamed with SMART, the Singapore-MIT Alliance for Research and Technology, on an experimental deployment of fully autonomous golf carts, guided by the company's 3D real-time VLP-16 LiDAR Puck, the most cost-effective LiDAR sensor on the market.
SMART conducted "an experiment… over six days at a large public garden in Singapore, in which self-driving golf carts ferried 500 tourists around winding paths trafficked by pedestrians, bicyclists, and the occasional monitor lizard."  SMART is a partnership between MIT and the National Research Foundation of Singapore.
For the experiment, researchers from MIT and Singaporean universities enlisted two modified Yamaha electric golf carts, each equipped with a webcam and Velodyne's 16-channel real-time 3D VLP-16 LiDAR Puck, which replaced earlier 2D sensors.  The carts transported passengers along the paths while autonomously navigating and watching for such obstacles as pedestrians and animals.  The golf carts jockeyed for position along with everyone, and everything, else on the paths.
Carts cruised at a top speed of about 15 miles per hour, relying on a "dynamic virtual bumper" – in effect, a cylinder surrounding the vehicle's planned trajectory – rather than GPS.  The cylinder's width and length changed in response to the vehicle's velocity. When an obstacle entered the cylinder, the vehicle's onboard computer modified the cylinder to exclude it — altering the trajectory, reducing the velocity, or both.
According to MIT News, the experiment also tested an online booking system through which visitors could schedule pickups and drop-offs at any of 10 stations around the garden, routing and redeploying the vehicles automatically to accommodate requests.  When surveyed about the experience, 98 percent of passengers said they would like to ride the carts again and 95 percent would return to the garden if the carts became a permanent attraction.
"We [took] a minimalist solution to the self-driving-car problem," Daniela Rus, a professor in MIT's Department of Electrical Engineering and Computer Science, told MIT News.  "The vehicles are instrumented, but they are not as heavily instrumented as the DARPA vehicles were [or] as, say, the Google car. We believe that if you have a simple suite of strategically placed sensors and augment that with reliable algorithms, you will get robust results that require less computation and have less of a chance to get confused by 'fusing sensors,' or situations where one sensor says one thing and another sensor says something different."
"SMART's experiment points the way toward future passenger shuttle-type operations, especially those that don't require build-out of an extensive infrastructure," said Wei Weng, Velodyne Asia Sales Director.  "Velodyne LiDAR has become the de facto standard for autonomous vehicles and we're delighted to have assisted SMART in its rigorous test, in an environment that was as 'real world' as it gets.  Whether on an actual golf course, a park with pathways or the open road, LiDAR technology is consistently reliable, whatever the lighting or weather conditions."