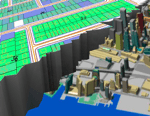 Bentley Map PowerView for the light editor/reviewer of spatial information (replaces PowerMap Field) and adds new editing capabilities, with file-based feature editing for field and disconnected editing
Bentley Map (replaces Bentley PowerMap, Bentley PowerDraft for Mapping, Bentley Cadastre, and Bentley CADscript) and is designed for the GIS professional who creates, edits, analyzes, and maintains spatial information, with the Cadastral Mapping workflow now embedded, rather than as a different product
Bentley Map Enterprise is a new offering for the GIS professional who needs access to advanced image management, solids texturing, document conversion, and long transactions in Oracle Spatial without the need for a server license
Bentley Map supports 3D geospatial workflows that allow for the seamless movement between 2D and 3D. The technology is built upon Microstation technologies with a rich set of visualization and manipulation capabilities directly within the software. Where other product suites make you export out for 3D enhancements or the creation of walkthroughs and 3D analysis, these capabilities are directly embedded. You can do flythroughs, shadow studies with the time of day and year, and the creation of animated movies directly in the application. The application also includes tools to quickly build a 3D model by extruding building footprints with building heights, and building rooflines, draping imagery, and adding detailed facades, with intelligence captured in the model. The creation or changes you make to 3D objects are captured and maintained as attributes so that you add intelligence that can later be exploited for further spatial analysis.
Bentley has exposed the API to allow for greater customization upon the platform, with high level XML-based feature modeling. Bentley Map includes many application-development options that include .Net, COM, MDL, VBA. There's also no need for a Bentley application passcode to build applications on any of the Bentley Map editions.
Interoperability is built in, with import and export of many geospatial formats, including SHP, MapInfo, GML, CSV, and ODBC. It also interfaces directly with FME Desktop for support of many more formats. There is also interoperability with PDF formats and connectivity to Google Earth to visualize projects. The new release also supports Bentley's i-models for enterprise value through Bentley View, Bentley Navigator, and many other applications.
The Oracle Spatial implementation is something the company highlighted as a differentiator, with a very rich and powerful set of functionality that isn't equaled elsewhere. In other implementations, there has been a middle tier or the connection isn't as rich. Bentley enables a very flexible two-tier direct connection as well as three-tier with Bentley Geospatial Server for enhanced team collaborations.
Cartographic-quality mapping is another feature that was highlighted with rich labeling features and printing tools that allow for custom printing and template views to generate cartographic-quality output.
Last year the company released a detailed airport data model with a custom symbology library for that industry as well as business rules for placement and editing of features, and detailed documentation with a sample data set. The company is working on similar rich data models for 3D city modeling (based on CityGML), roads and transport, and water and wastewater, with plans to release these data models later this year.
Overall, this release and repackaging is a major change to the Bentley products, making them more accessible with an added level of flexibility and robust functionality at the enterprise level. Learn more about the various versions and capabilities of this new product lineup here.