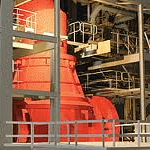 Les Elby, VP Business Strategy, at AVEVA, a leading design and information solutions software company in the plant, power and marine industries stresses that modeling inside plant detail has always been important, but that the pre-LiDAR modeling process was time consuming and cost prohibitive, relating one company that spent $50 million dollars over three years to create a large detailed model.
AVEVA has been focused on the ability to take scanned data and to relate materials and other intelligence in an automated process. Their new Laser Modeller capability creates an interactive point cloud where operators can click along an element such as a pipe and connect that with attributes such as weight and stresses, greatly increasing the speed of making the model intelligent.
To date, the industry standard is that for every hour of scanning there are 20 hours of back-office processing. With more automated processes such as AVEVA's Laser Modeller that's coming down to more of a 1:5 ratio. With continued focus on automation, AVEVA feels that we'll be down to 1:1 relationship within five years.
The ability to capture as-built information, overlaying a laser point cloud on design data to see how accurate the model is, has helped move scanners into construction too. I spoke with Beau Turner, director of business development at IMAGINiT Technologies about their point cloud import, visualization and interaction capabilities within Autodesk's REVIT software. In the scan to Building Information Model (BIM) area, laser scanning opens up the ability to accurately assess what's there, to compare the model to what's completed, to know if the work is done right, and to document the construction process.
IMAGINiT have added new capabilities to compare the point cloud to the model within Revit and to create a report to highlight the deviation between the two. With the added capability to connect the model to reality, the scan to Building Information Modeling (BIM) is taking off.