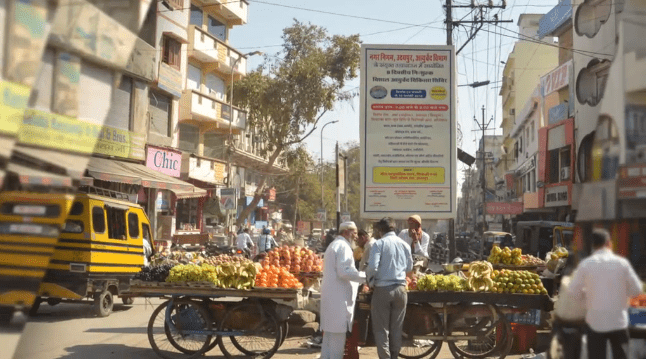 The flow of people moving from rural to urban areas in India places great pressure on city infrastructure and the smart cities programme seeks to address this through the construction of a range of new, contemporary cities, and refurbishment of existing cities. The aim is to facilitate sustainable urban growth, for instance, through the provision of adequate water systems, stable power supplies, and reliable public transport.
One of the first 20 cities to be prioritised for development is Udaipur. Like many Indian cities, Udaipur is dynamic and boasts a rich cultural heritage, but also faces significant challenges such as environmental degradation and traffic problems that have an adverse effect on living conditions and inhibit tourism and growth.
Combining Nordic experience with local insights
Neel Strøbæk, Group Market Director for Planning & Urban Design and Herbert Dreiseitl, Director of Ramboll's Liveable Cities Lab, and master students from the National University of Singapore recently met with Udaipur's Municipal Commissioner to discuss how to transform the city in the smartest way possible.
Herbert Dreiseitl explains, "To be successful in drawing on our experiences from the Nordics and Singapore, we need to prove that it can be applied in India, and a strong understanding of the local culture and ecosystems is therefore essential. To investigate this, a pilot study, or 'studio' of Udaipur was initiated in conjunction with nine landscape architecture master students from the National University of Singapore."
In the preparation phase, the studio comprised desk research into Udaipur's water systems, mobility, cultural identity, tourism and morphology. This was then followed by a ten day site visit to Udaipur supported by Ramboll experts from Sweden and Denmark. Herbert Dreiseitl remarks, "To truly understand a city and its people, face-to-face connection is required – it is not possible to simply rely on official data. We therefore made a concerted effort to gain insights from local people and NGO groups."
Proposal for conceptualising the redesign Udaipur's river
The studio focused on water, traffic and biodiversity in Udaipur and the findings were very well received at a recent meeting with the Municipal Commissioner, and a second presentation was well attended by city officials and NGO groups at the Indian Institute of Management in Udaipur. The presentations successfully culminated in the Chief Engineer of the city requesting assistance in conceptualising the redesign of the Ahar River and outflows from the city using constructed wetland and cleansing biotopes.
Neel Strøbæk, concludes, "We have now reached an important milestone through a great collaborative effort with the National University of Singapore. And if we are successful here, there is very high potential that it will open up new opportunities since there are many Indian cities that are experiencing the same challenges as Udaipur.
Together with the National University of Singapore, Ramboll conducted a pilot study in Udaipur focusing on the smart city challenge, where Udaipur is selected as one of the 20 cities in the first round.
Download the brochure and read more about the findings.