Thursday, May 12th, 2011
The 3D Web Client "XNavigator" is a virtual globe application that acts as client to a "Web 3D Service (W3DS)". W3DS is a draft specification by the OpenGeospatial Consortium (OGC), that has been extended by Arne Schilling...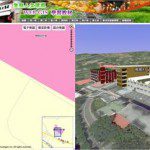 Wednesday, May 11th, 2011
SuperGeo Technologies, the leading global provider of complete GIS software and solutions, designed an Eco-cultural GIS website for Tungnan University to integrate the campus navigation system with the information of surrounding environment, ecology and culture. Aimed to...
Wednesday, May 11th, 2011
Corel today announced the expansion of its award-winning graphics and technical illustration portfolio with the introduction of CorelCAD, a powerful and affordable CAD solution that delivers native DWG (industry standard CAD file format) support, and the ability...