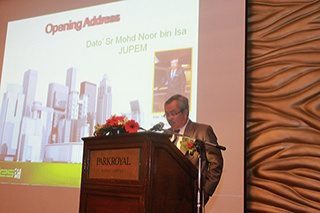 The one-day seminar showcased innovative technology and application using NextMap Malaysia – out of the box high resolution 3D terrain data for Malaysia, in addressing the challenges of National Development such as Infrastructure development, Natural Resource Management and Disaster Management. The keynote addresses by JUPEM, DES and Intermap were highly informative and educational.
VVIP – Dato Sr Md Nor bin Isa giving his opening address
Local partners such as Jurukur Perunding Services Sdn Bhd and MySpatial Sdn bhd shared innovative applications and solutions developed for various government and commercial customers. DES's Malaysia DATAppliance™ and Intermap's 3DBI™ had gathered huge amount of interest from the participants.
Both technologies demonstrated the large amount of 2D and 3D data can be acquired and utilized for the various development projects in a cost effective, easy and simplified way.
"All areas are fully adequate and satisfying. Keep up the good work and I am looking forward for 3D Malaysia 2014", Ms Michelle Wong, and Technical Manager from Geopancar Sdn Bhd.
The event ended at 1730 and participants returned home with enhanced knowledge gained from 3D Malaysia 2013.