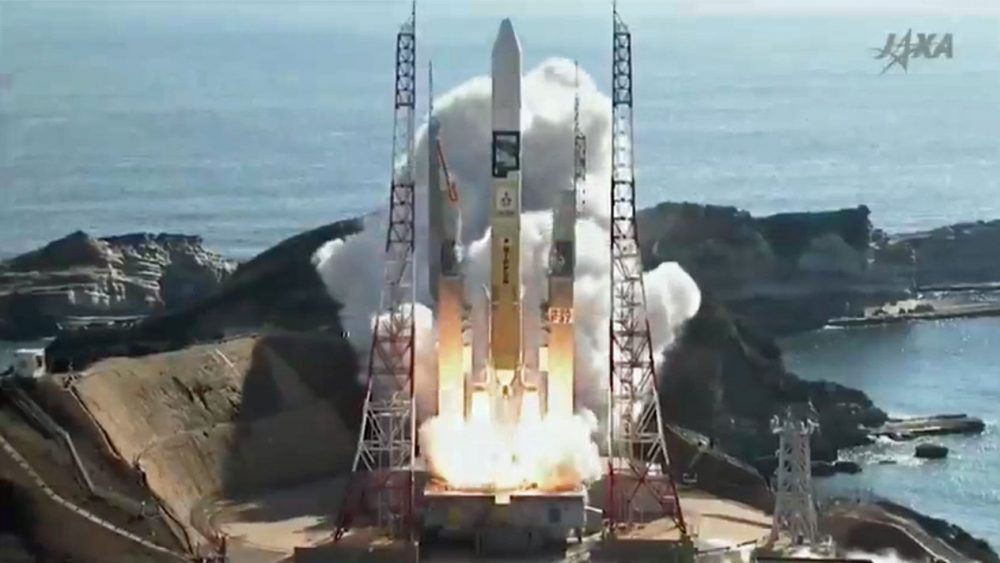 On Dec. 23, 2017, two research satellites to probe Earth's climate patterns and test ion engine technology to counter atmospheric drag in an unusual low-altitude orbit launched from the Tanegashima Space Center on top of a Japanese H-2A rocket. Mounted on a dual-payload adapter fixture, the satellites were released into two distinct orbits a few hundred miles above Earth by the H-2A's upper stage.
First, the hydrogen-fueled launcher deployed the Shikisai climate monitoring satellite into a polar orbit of approximately 500 miles (800 kilometers). Then the rocket's LE-5B upper-stage engine reignited twice, targeting a lower altitude for separation of a technological demonstration satellite named Tsubame in an elliptical orbit between 280-400 miles (450-643 kilometers) over the planet.
Deployment of the 2.2-ton Shikisai satellite, also known as the Global Change Observation Mission-Climate (GCOM-C), occurred approximately 16 minutes after the H-2A rocket's liftoff. The 880-pound (400-kilogram) Tsubame payload, officially named the Super Low Altitude Test Satellite (SLATS), was released from the H-2A second stage at T+plus 1 hour, 48 minutes.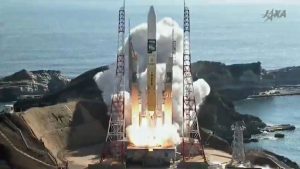 The H-2A rocket blasted off from Japan 72 seconds before a SpaceX Falcon 9 rocket launched from Vandenberg Air Force Base in California. The back-to-back liftoffs marked the shortest time between two successful orbital launch attempts since the dawn of the Space Age, according to Jonathan McDowell, an astronomer at the Harvard-Smithsonian Center for Astrophysics who tracks global space activity.